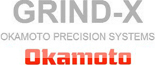 Technology
Our specialized Research & Development Center in Japan continuously develops and improve our Okamoto's products.
Some of our achievements that has changed the direction of the industry are as follows:
Downfeed grinding technology + Index Wafer Transfer (Awarded JSME in 1996)
Grinding machines use an unique down feed grinding method to maintain a constant down-force to minimize depth of damage and
prevent edge chipping and a 360 degree rotating indexing table which enable thin wafer processing without influencing machining accuracy.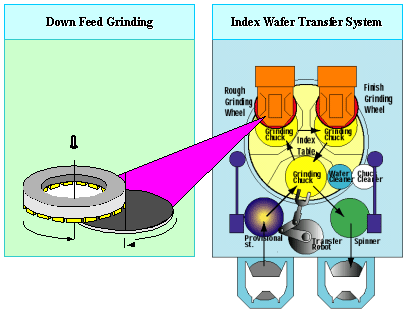 Integrating of grinding and polishing technology
Fully auto grinder / scanning polisher integrating of grinding and polishing technologies for ultra thin wafer processing
which ensures that die strength remains uniform across the wafer.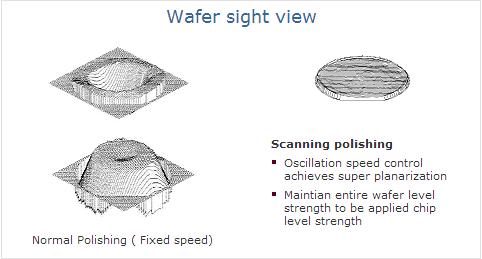 Lens-polishing technology
CMP machine leverage its lens-polishing technology for use in wafer polishing. Okamoto's new planarization technology revolves around its
polishing head, which unlike conventional CMP tools, is placed down on the wafer that is face up. We utilize a much smaller pad for wafer so that
it rotates at a much higher rate of speed but with low pressure, which will make the technology ideal for copper, low-k and high-k application.
CNC
Okamoto's grinder can equipped with flexible CNC, the grinders use a Fanuc CNC loaded with the company's software to simplify setup and
operation. With CNC controlled, it achieves an extremely high level of grinding process and hold consistently all day long at very fine tolerances.
"Non Contact" type linear driver and V Super
The grinding machine is improved by using a variable pressure hydrostatic slide way system that minimizes and maintains constant oil film
thickness to achieve accurate grinding.

While competitor's machines generally use ball-screw drive and point-to-point contact ball bearing slide-ways, our non-contact linear-drive
and V-V super precision slide ways structure hold vibration to a minimum.