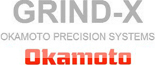 Corporate Profile
About Us
Since its incorporation in 1973, Okamoto (Singapore) Pte Ltd has been developing into a fully integrated machine tool manufacturing operation. Okamoto Singapore was the first Asian machine tool plant in the industry to achieve ISO 9002 certification award.
Okamoto Singapore is a company that has always been steeped in the traditional of providing the finest machine tool makers, blending craftsmanship with the latest technology through technology transfer from head office in Japan.
As the company's objective has always been total customer satisfaction, Okamoto Singapore will continually strive to improve and upgrade its manufacturing capabilities to meet the changing needs of customers.
Okamoto (Singapore) Pte Ltd
A Subsidiary of Okamoto Machine Tool Works Ltd, Japan
Incorporated: 19th December 1973
Commencement: 1st January 1975
Paid up Capital: SGD24,000,000
Land Area: 24,000m²
Build up Area: 18,000m²
Employment: 230
Address: 10 Riverside Road Entrance at Marsiling Lane, Woodlands Newtown, Singapore 739082
Sales & Marketing
Tel: (65) 6362 3818
Fax: (65) 6362 3368
Operations
Tel: (65) 6269 6426
Fax: (65) 6269 0832
Products
Our product series range include both Saddle Type Precision Surface Grinding Machines Series, Column Type Precision Cylindrical Grinding Machines Series, Form Grinding Machine Series, CNC Double Column Type Surface Grinding Machine Series, Cylindrical Grinding Machine Series, Internal Grinding Machine Series, Semiconductor Equipment and a comprehensive range of accessories for machine tools.