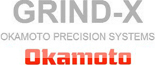 Corporate Profile
Corporate Milestone
1926
Kakusaburo Okamoto established the Okamoto Special Purpose Machine Tool Works
as a privately owned company.
1935
Incorporated as Okamoto Machine Tool Works, Ltd. with Head Office at 3-4 Ginza,
Kyobashi-ku, Tokyo.
1953
Developed column cross feed type Surface Grinding Machine Model PSG-6.
1957
Developed Internal Grinding Machine Model IGM-1E.
Development and production setup for all types of machine tools,
including surface grinding machines completed.
Capital increase to 30 million yen.
1961
Developed Gear Grinding Machine Model SHG-2 with worm type grinding wheel.
1963
Listed on Tokyo Stock Exchange, 2nd Section.
1972
Established USA subsidiary Okamoto Corporation.
1973
Established subsidiary Okamoto (Singapore) Pte. Ltd. in Singapore.
Gear Division of Hiroshima Plant was made independent and incorporated
as Okamoto Gear Co., Ltd.
1982
Annaka Plant in Gunma Prefecture completed and started production.
1987
Established subsidiary Okamoto (Thai) Co., Ltd.
1989
Completed 2nd expansion of Annaka Plant.
1991
Okamoto enters an engineering and marketing collaboration with
The Gleason Works of Rochester, NY (USA) related to gear equipment.
1992
Established Okamoto Machine Tool Europe GmbH in Germany.
1995
Established Okamoto Southeast Asia sales and service branch in Singapore,
Okamoto Machine Tool Works, Ltd. Singapore branch.
1996
Developed Full Automatic Grinder VG502MKII8.
Awarded with JSME (The Japan Society of Mechanical Engineers) Medal.
2001
Developed Back Grinder GNX300P dock with Scanning Polisher System for
Wafer Thinning Solution.
2002
Established Okamoto Machine Tool (Shanghai) Office.