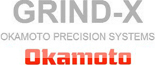 Corporate Profile
Application & Sales Support
Professional service engineers provide customer support
Our dedicated applications and sales support staff are topflight grinding experts. Needless to say, our valued customers are professionals and deserve only the highest degree of grinding experience and expertise.

In cooperation with our Engineering and Research divisions, our sales staff has received extensive training in the latest innovations in grinding technology in order to provide our customers with the most up-to-date information and service. In cooperation with service representatives throughout the world, our customer-oriented sales staffs provide before-and-after-sales services to our valued customers.

Also, in order to support our customers' needs, consumables such as parts and grinding wheels are available immediately through our authorized distributors.
Pursuing the highest quality grinding equipment and technology through exhibitions, private shows and direct customer contact
As a versatile, all-round grinding machine manufacturer, it is vital that we not only satisfy our customers' requirements but also that we propose new ideas and innovations in grinding.

Okamoto constantly introduces new innovations in grinding and grinding software. Further, we regularly hold private shows in addition to participating in major trade fairs such as Semiconductor Shows and other international exhibitions.

At our private shows in Japan, the entire facilities are used as showrooms in order to give our customers a behind-the-scenes look at what is involved in the entire manufacturing process. We regularly hold seminars on high-accuracy grinding, nano-finish grinding, etc. Through these types of activities, Okamoto makes every effort to familiarize itself with its customer's needs. Further raising its standard in quality and machine versatility.
User-friendly follow up system for customer satisfaction
At our Annaka Plant, the Service Section of the Semiconductor Equipment Division holds quality control meetings once a month. Possible technical issues are brought up at these meeting and a pro-active solution is found before tour customers' face them. Okamoto service representatives receive additional technical training every six months in order that they can stay abreast of the ever-progressing technologies.