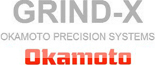 Corporate Profile
Services & Training
Before-sale Service
The showroom in Okamoto Japan provides demonstration in processing an actual requirement by the customer. Customers bring in a wide variety of sophisticated technology items related to electronics and the semiconductor industries trial processing. The engineering staffs demonstrate and give advice on programming, setting of processing time, grinding operation and processing techniques. The business staff gives before-sales service by listening to user's requirements and finalizing detailed specifications and feedback to the development and other relevant divisions.
After-sales Service
We provide full range of high quality after-sales services.
Machine Installation – We provide professional installation of new and used machines at the customers' site to its best possible function. This includes minor adjustments as necessary and also tuning of machine parameters.


On-site Repair – Our service engineers are at call 24 hours to mobilize immediately to perform repairs at the customers' site. We also utilize contracted agents throughout SE Asia and the Asia Pacific region to respond to our customers' needs almost immediately.


On-site preventive maintenance – During the warranty period, our engineers provide preventive maintenance to enable the machines to run at maximum efficiency and accuracy. We also provide a service contract option for machines that are out of warranty. The service contract can cover both parts and labor as per the customer's requirement.


Post installation Upgrades – New software and mechanical upgrades are always available to our customers when the need arises. We also have our own software organization that is constantly developing new ideas to improve efficiency of processing.


Part supply and repair - Any part failure will be investigated fully and a report is provided. A recommendation can then be done to ensure that failures do not happen more than once.
Training
We provide training to customers to assist them to achieve a better understanding on the machine operations procedures. Handling and maintenance proceedings of the machine will be among our prime focus during the course of training. This is to help our customers acquire the best possible performance when manoeuvring our machine. Ultimately, our customers will then learn the machine configuration, method of adjustment and basic troubleshooting of machine after the training.